Today's post features a collection of unique and creative wallet designs.
Air Mail Envelope Wallet
Made from a one single sheet of Tyvek, (no stitching or parts that can be ripped or torn). [link]
NES Controller Wallet
Another reinvention of this gaming classic… [link]
Crossword Wallet
Measures 4"x4.5" folded. ID and credit card slots, as well as a deep slot for cash/left overs. [link]
Dollar Bill Money Clip
Same size and feel as the cash it holds. [link]
Duct Tape Wallet
Made from Super Duct Tape (specifically engineered so that your wallet won't lift, peel, or get sticky), these duct tape wallets are one part high fashion, one part weekend warrior, and another part sheer cool. [link]
Illuminating Wallet
The "Walluminate" - a wallet that glows in the dark. [link]
Cassette Wallet
Retro wallets hand-made from cassette tapes. [link]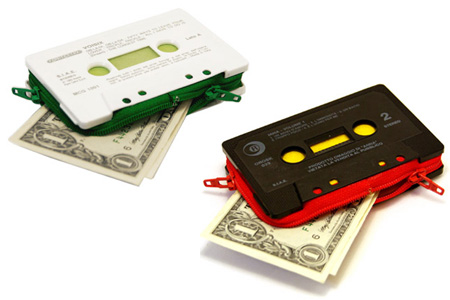 Dollar Bill Wallet
A small wallet to hold cards and money. Works best with crisp newer style bills with the presidents being off center.
Paper Wallet
Make a paper wallet in two minutes.